I love the twinkle of fairy lights and if only they were slightly more energy-efficient and less of a fire hazard, I would fill my entire room from floor to ceiling with them. But when used in moderation, they still look good and definitely add a warm glow to any room. So, here is my little craft idea that I use as decor in my own room -
DIY doily lights!
You only need three materials: 1) a strand of lights, 2) paper doilies in different sizes, and 3) scissors!

First, hang up the lights in the area you want them. Use your scissors to cut a small slit or hole in the middle of each paper doily. Then, simply place the doilies through the lightbulbs and secure with clear tape if needed. For an extra touch of whimsy, you can glue tiny paper hearts to your garland or write your favourite quotes on the doilies.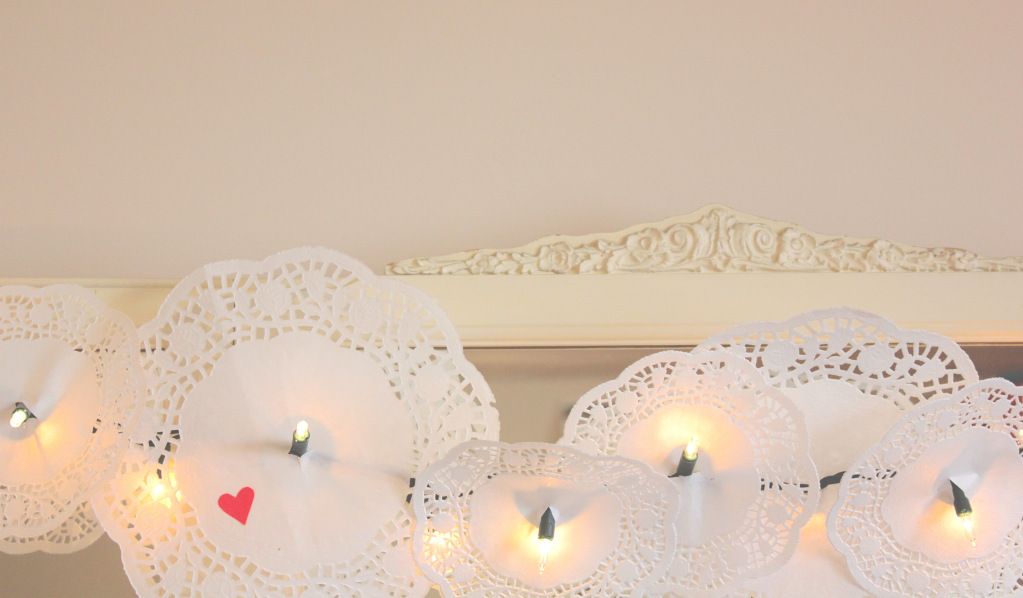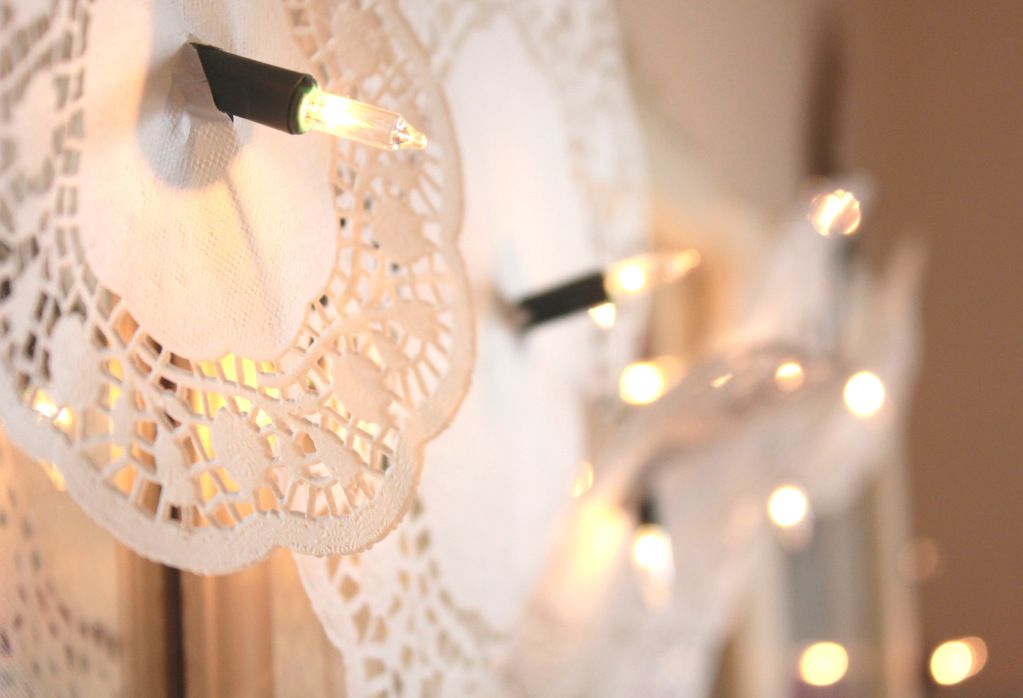 My doily lights are hung along the top of my white vintage dresser. If you noticed, I only took close-up pictures because my room is ABSOLUTELY CHAOTIC (as usual). Yesterday, Mr. Potatohead looked around my room and said... you know, on your blog, your room looks so clean and vintage... BUT IN REALITY... (exasperated sigh). Poor guy. He's put up with over six years of my mess and I think it's time to get my act together.
In order to motivate myself, I've decided that I will not post any more art or DIY projects until I thoroughly clean the piles of miscellaneous objects I'm currently drowning in. Perhaps this blog is actually a source of procrastination since the time I spent writing this post could have been used to clean. (oops)...
So dear readers, be patient with me! Maybe I'll post quick room updates in the meantime so you all know the dust bunnies haven't gotten to me yet. And when I finally finish cleaning, I'll post pictures so you can all joyously celebrate with me because I think this room-cleaning business is going to be the hardest
DO-IT-YOURSELF PROJECT
that I will ever undertake. HAHA. Seriously. I'm not even going to show you "before" pictures of my room condition but if you've ever seen an episode of
HOARDERS,
then you get the idea. =P
wish me luck!