I've been sick for the past few days so I've been at home, holed up in my room, looking like a
zombie.
Anyway, I was looking up remedies for fevers and got SO EXCITED when one site said
"EAT ICE-CREAM"
(no joke!)
but then I realized it was talking about the kind of fever where you feel really hot, and I had the OTHER kind of fever which leaves you with cold chills. The remedy for that one was to
drink hot soup.
Yay. It took all my self-control to not eat ice-cream but I did go with the hot soup option instead
(with a side of cookies)...
and I do feel better today.
But, since I couldn't have the cold dessert of my choice, I went with a hot sugar alternative in the form of something called
MUG CAKE
(which is basically cake made in a mug).
Now, awhile back I came across a recipe for
Nutella Mug Cake
which sounded so delicious, but I actually never got around to trying it since I'm lazy and the recipe needed ingredients
(which most recipes do).
Since getting eggs, cocoa powder, and Nutella was going to be a huge undertaking on my part, I was happy to see a package in the baking aisle labelled MUG CAKE... the pre-made kind. All I needed was milk, a mug, and a microwave. I believed I could handle that. So I took the package home, and being the amateur chef that I am, I meticulously followed the three instructions on the back of the box without fail. And NO, I didn't get more sick after eating it. In fact, I think this little cake attributed towards my recovery
(Mr. Potatohead would vehemently disagree).
Hahaha.
The best part about this mug cake is that if you scroll down below, you'll see that it has
30%
of your recommended daily intake of
IRON
(what!!!!).
That's more than Vector Cereal which is pretty healthy
(29%... I just checked haha).
Take that, ANEMIA!
And well maybe, just ignore the calories statistic. There... I conveniently blotted it out for you. Just eat the cake.
NEXT KITCHEN MISSION:
Learn how to make...
JELLO!!!!!!
(oh how pitiful I am)...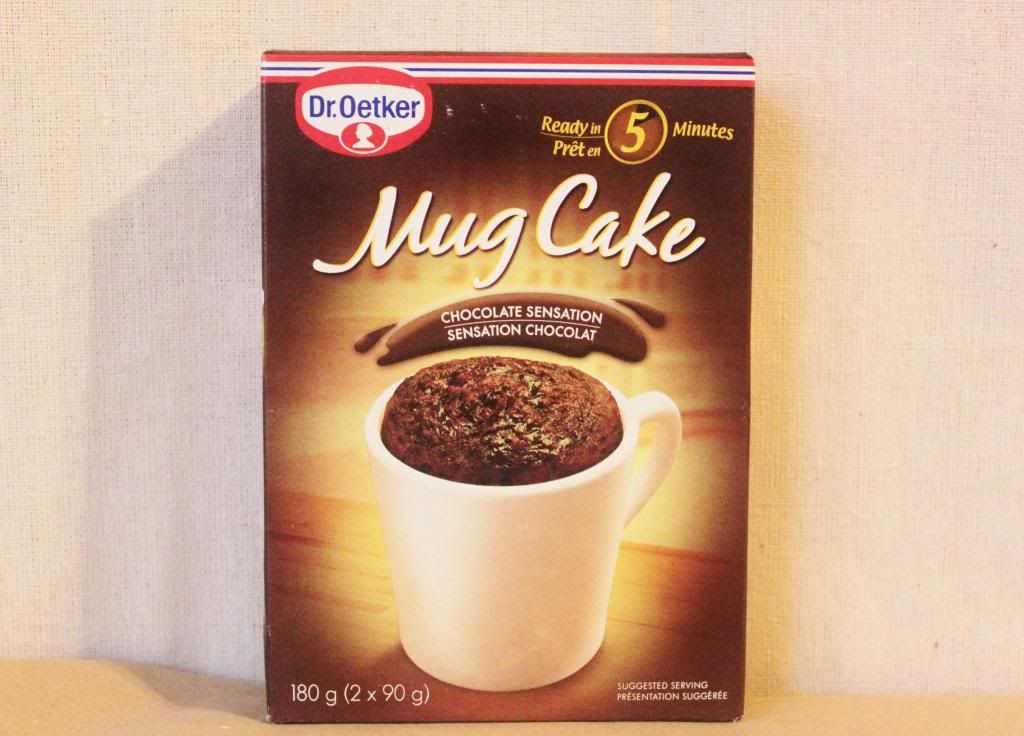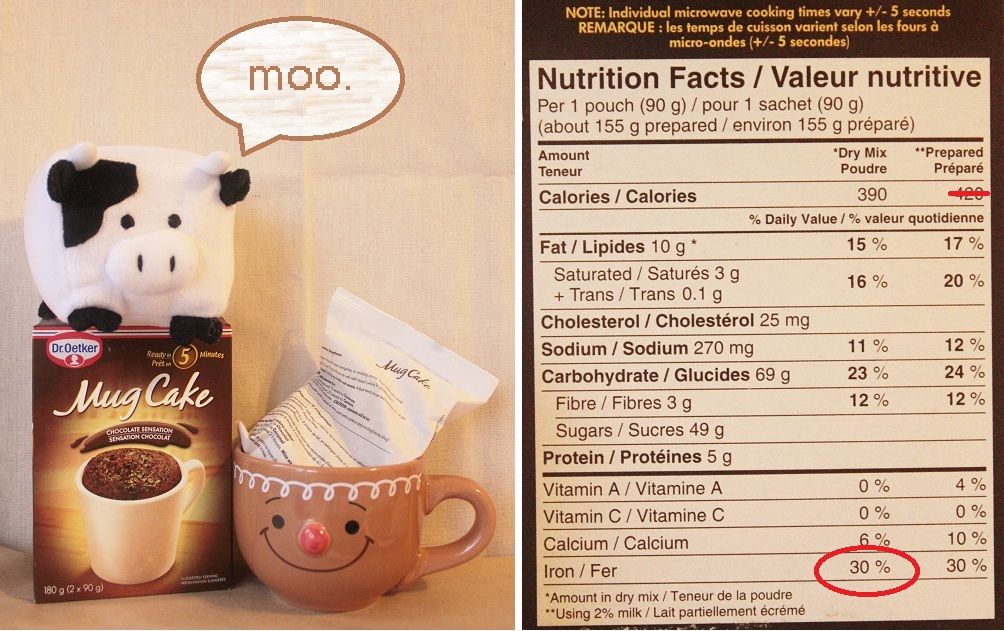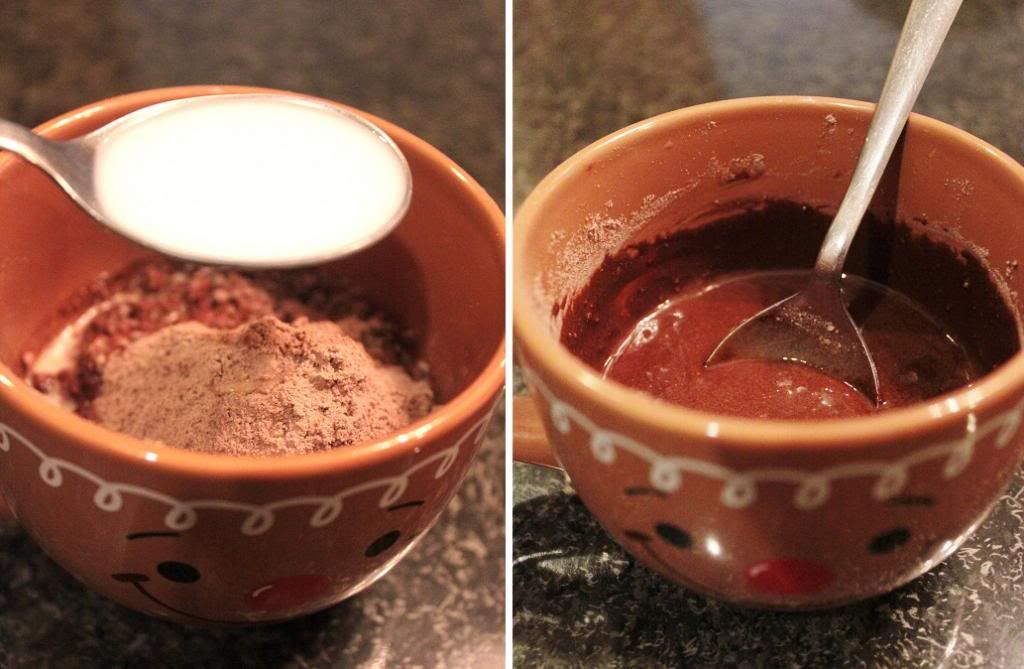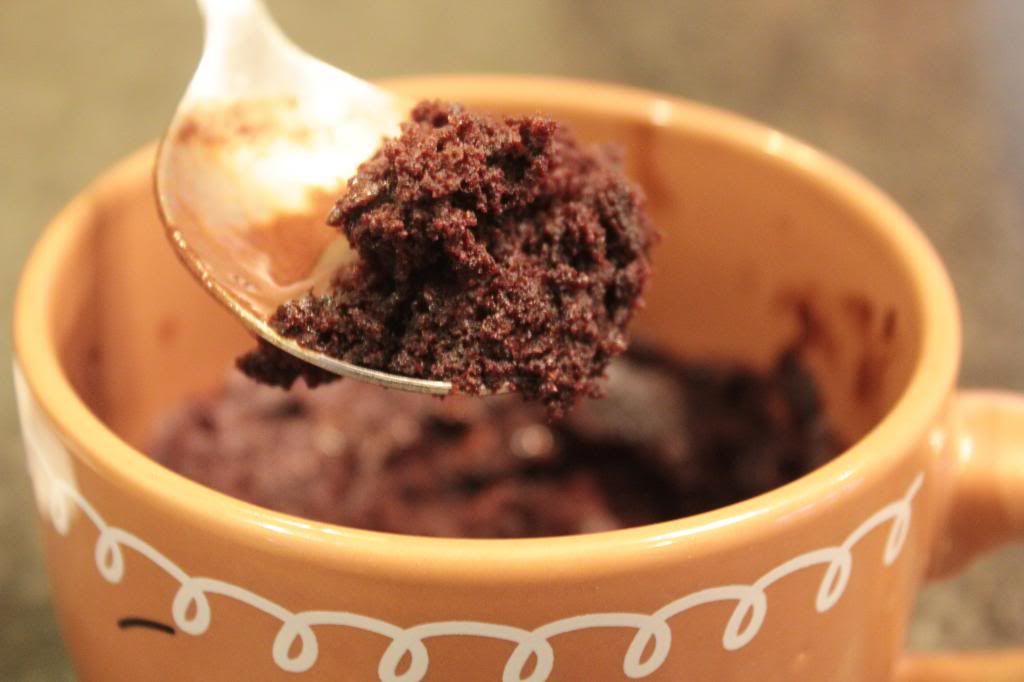 By the way, do you like my
gingerbread cup?
I LOVE it. It's like I'm eating his brains. But he doesn't mind.
Anyway, if you are curious, here's the recipe for the
Nutella Mug Cake,
where you actually have to put ingredients together
(but then you can say you made it from scratch! haha).
One of these days I WILL attempt this recipe.
One of these days...
Recipe for Nutella Mug Cake
4 tablespoons self rising flour

4 tablespoons sugar

1 egg

3 tablespoons cocoa powder

3 tablespoons Nutella

3 tablespoons milk

3 tablespoons olive or vegetable oil
Combine all ingredients in a large coffee mug.

Whisk well with a fork until smooth.

Microwave on high for 1 1/2 – 3 minutes.

Top with whipped cream and a little chocolate sauce if desired.