During such a cold and frosty December, it seems counterproductive to be making whimsical
floral wreaths
but that's exactly what I did yesterday, for no apparent reason other than the fact that I had recently acquired some
floral tape
and some
pretty rose garlands
from the dollar store. That was a good enough reason for me so here are some pictures from that little craft session and thankfully there was enough daylight to give off a pseudo-summery atmosphere.
These floral wreaths are super easy to make: all you need are some flower garlands, floral tape, scissors, and (optional) green floral wire. First, I pulled all the flowers off the garland. Then I measured the size of my head and cut a length of the garland to wrap around as the wreath. I joined the ends of the garland firmly together with floral tape. I also wrapped some floral wire around the entire garland length to make the shape of the wreath extra secure. Then I arranged the flowers as I wanted them to look and attached them to the garland using floral tape. As an extra touch, I cut some leather scraps into thin strips and wound these strips around the whole wreath. I made two of these flower crowns - one with large flowers all around, and the other with two simple yellow rosebuds and a little bit of (fake) baby's breath. The large flower one looks too awkward and "costumey" in my opinion but I really like how the more simple, understated wreath turned out!
The last step is to put the wreath on your head and prance around your room like some
weird fairy nymph...
but be sure to close your curtains before doing so.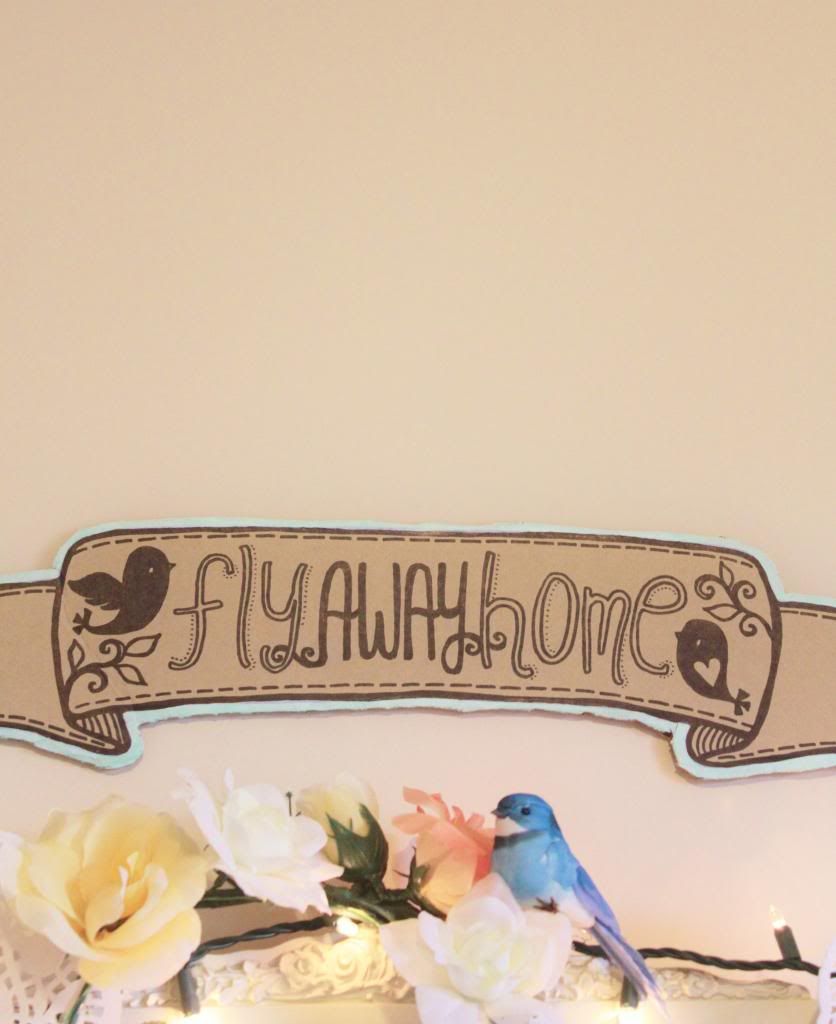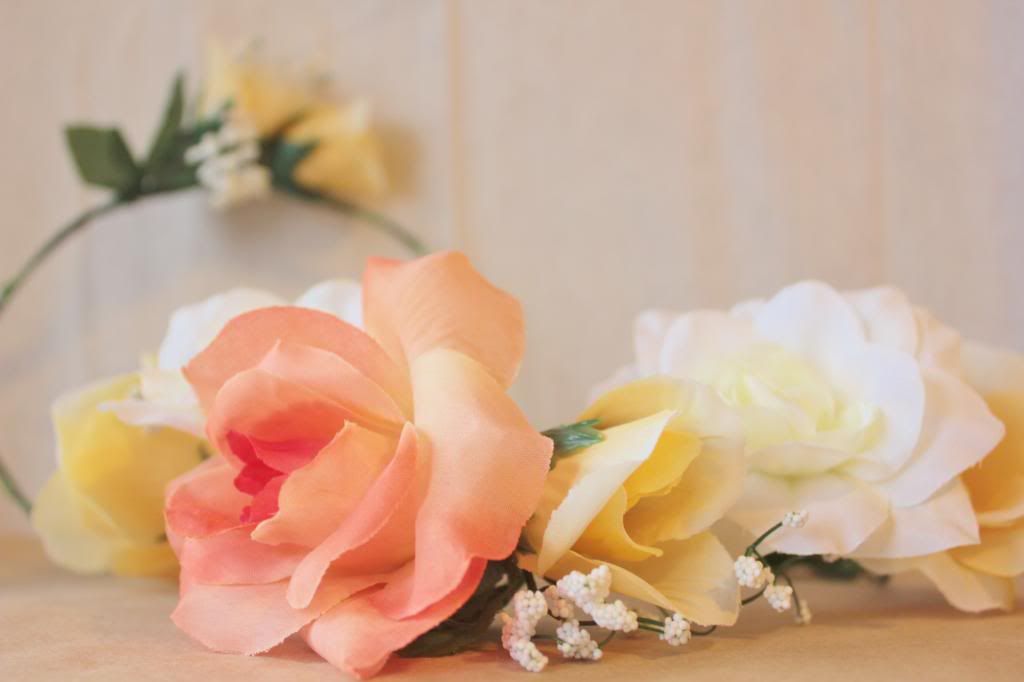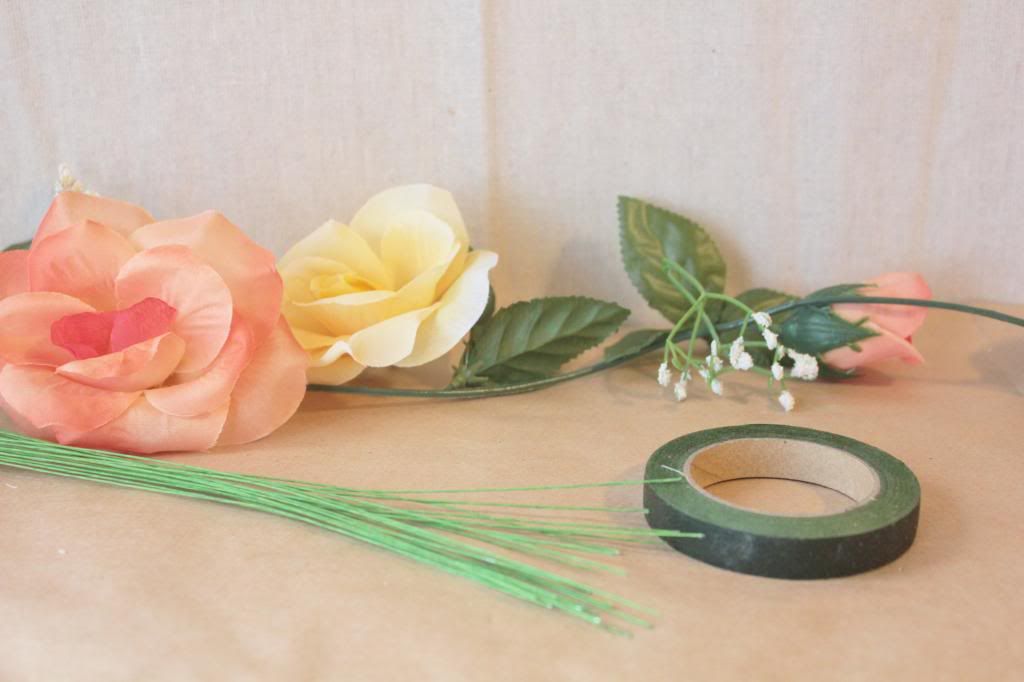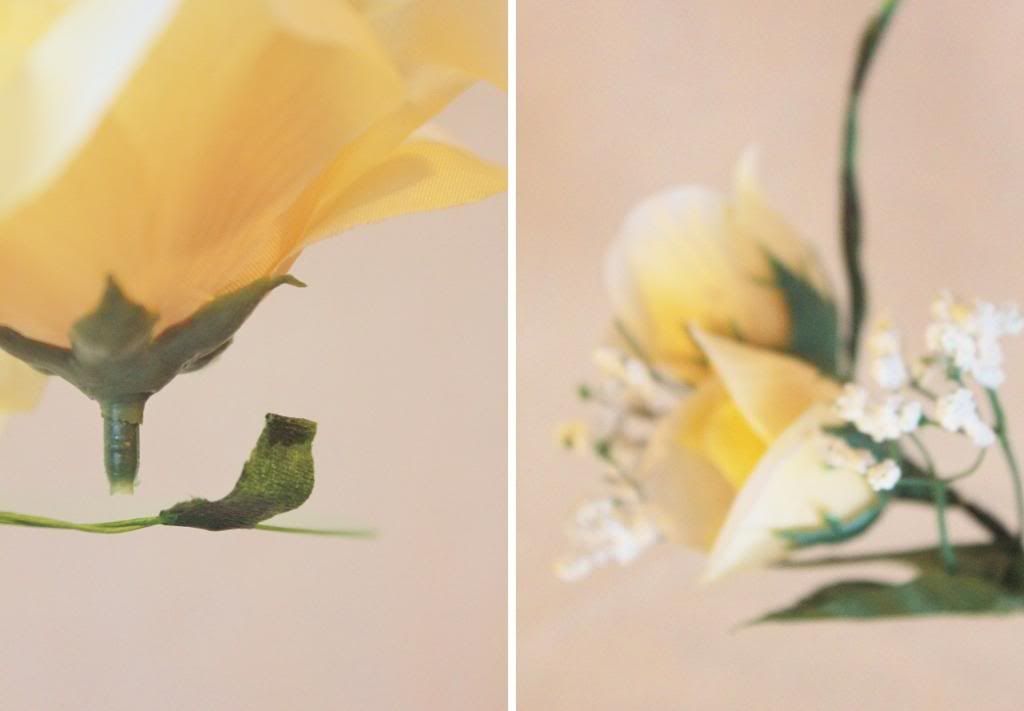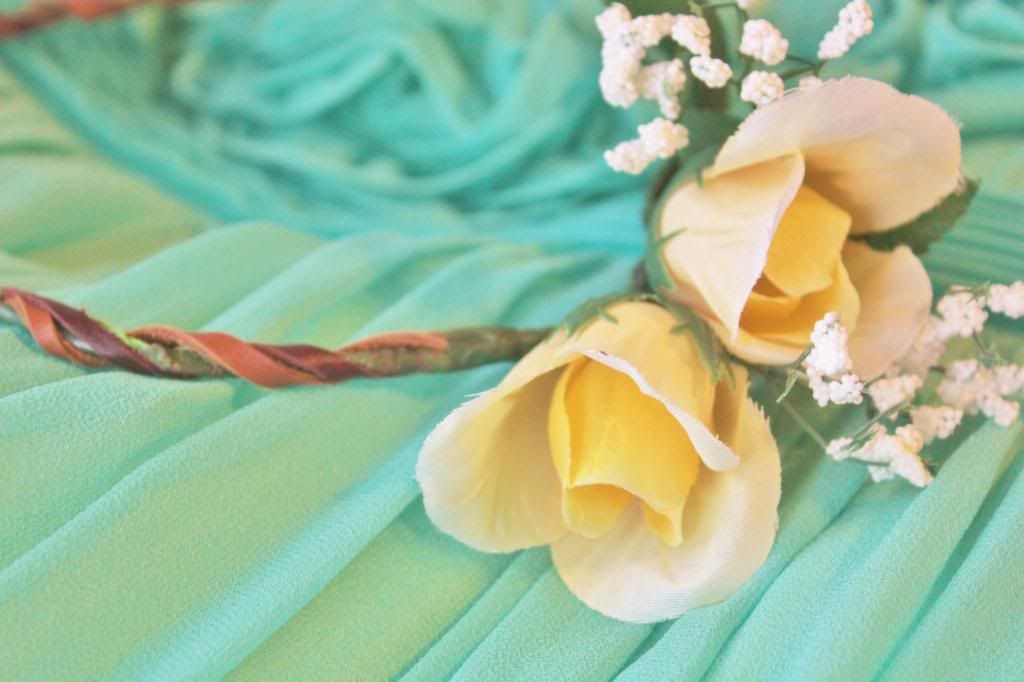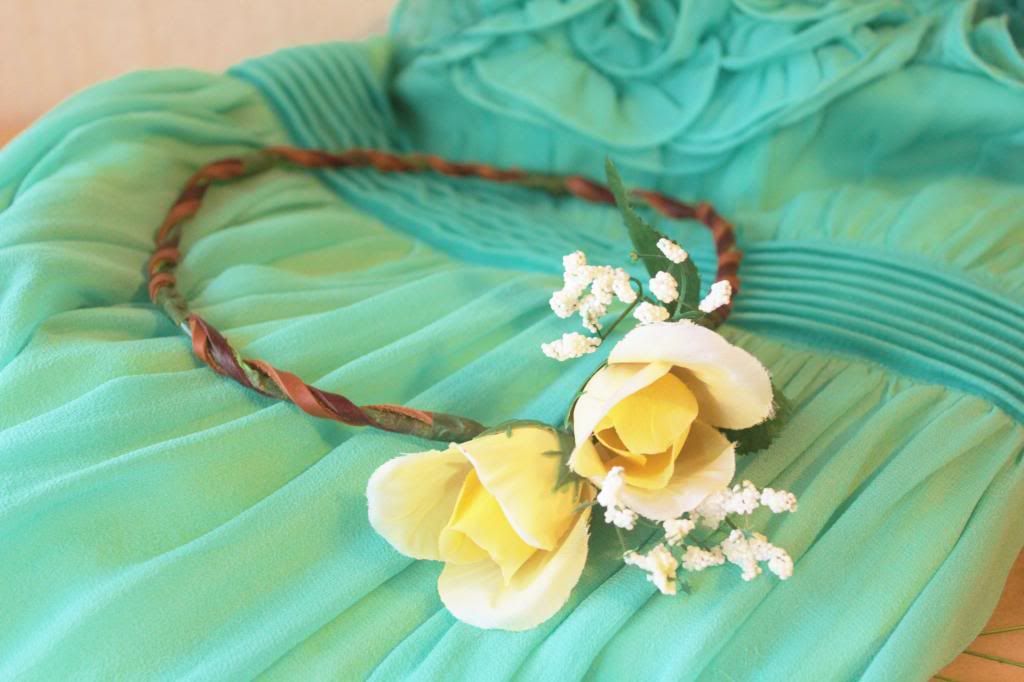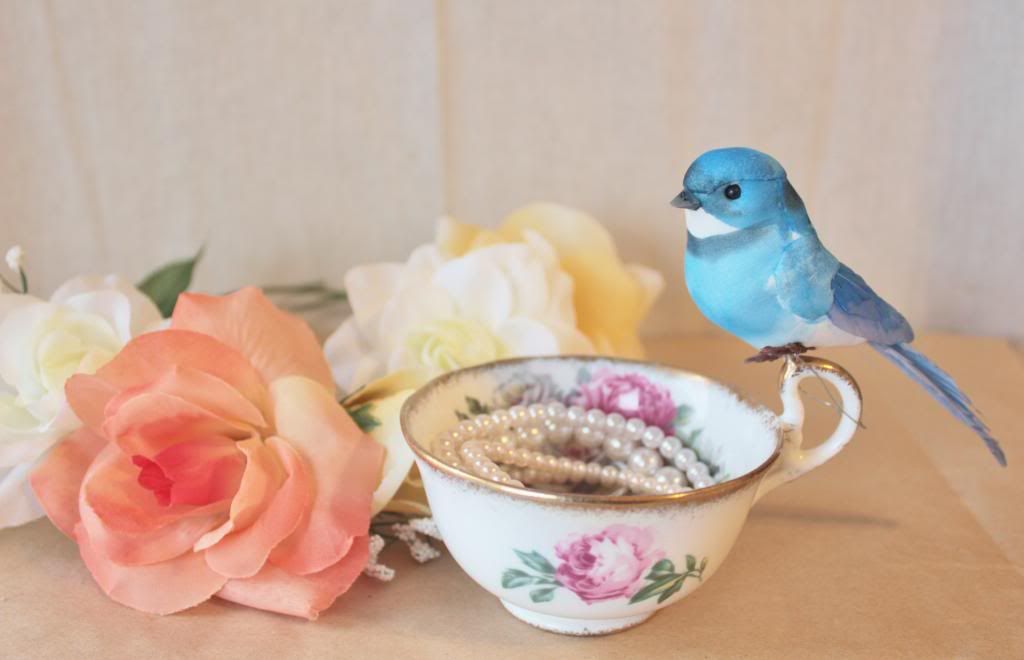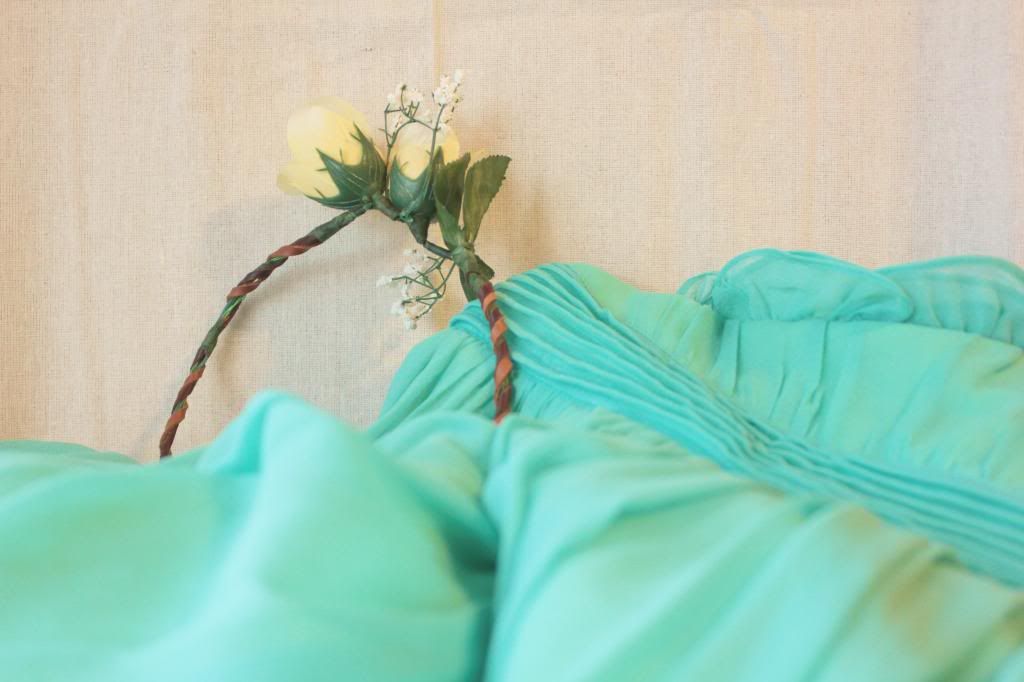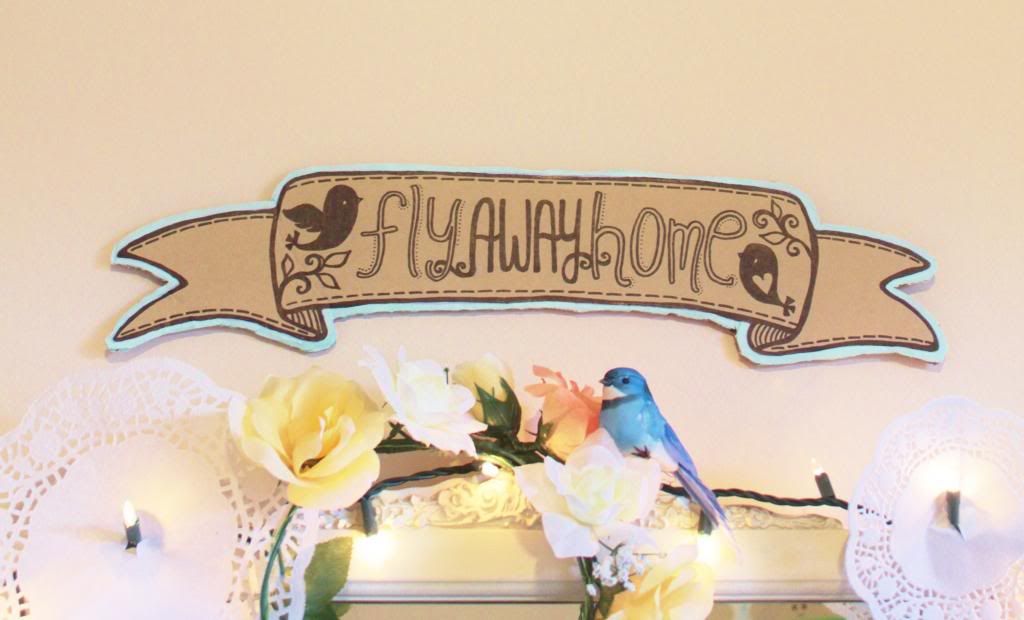 Right now I am picturing myself dancing around in a meadow wearing that yellow floral wreath and my favourite mint green dress. In reality, here I am huddled over a computer screen, bundled up with a cup of hot chocolate beside me.
Side note #1:
the
"fly away home"
sign was drawn on a scrap piece of cardboard one day and it currently resides above my vintage dresser. I painted the edges with mint green paint. Ideally it would be nice to have a wooden sign, but I suppose for now, cardboard will have to do. haha. You can make your own interpretation of what the quote means but it's something that's been on my mind for awhile.
Side note #2:
I finally have some links up on my
DIY links page
(it's just a compilation of all my old projects from this website)
but at least it adds some organization to this chaos. Feel free to check out my old projects and I'll be sure to add some more to the list soon! =)
Side note #3:
I went to my work party this week
(it was a painting party!)
and I got to paint something that incorporates a lot of the elements in this post
(such as mint green, flowers, a bird, and a floral wreath!).
I'll be posting that painting later on this week!
***
so...check back soon ;)